Ready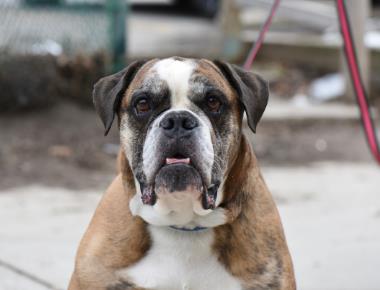 Ready is a super sweet old timer with a big heart who loves being around his people. He is a quiet boy who rarely puts up a fuss. He is a down-to-earth kind of guy who is up for anything, whether that means cuddling on the couch or happily riding shotgun during your weekly errands, as long as it means spending time with you.
Despite being an older guy, Ready is a real goofball who LOVES to play! Whether it is being chased around the living room, playing catch outside or a good old game of tug, Ready is down for it all. This easily excitable and silly guy loves being the centre of attention and will do just about anything for a good belly rub or a tasty treat. He is someone that knows what he wants and is not afraid to show you what toy he does or does not want to play with or simply get up and leave when he needs some alone time. Ready can also be a real diva at times, proudly strutting his stuff around the house with his feeding bowl in his mouth.
Whoever said "you can't teach an old dog new tricks" has definitely never met a dog like Ready. He is incredibly smart and is eager to please his people. In order to challenge that smart mind of his and keep him engaged, Ready requires a significant amount of mental stimulation through activities such as people watching, puzzle feeders and his personal favourite: car rides. He is highly food motivated and catches onto new commands very quickly. In fact, it is safe to say that Ready does not eat to live but instead lives to eat!
This handsome pup is someone who loves wholeheartedly and falls hard. For this reason, Ready tends to be a little protective of his people. He sometimes reacts in a less than favourable way towards certain dogs and strangers out on his walks. His prospective adopter must be willing to continue working with him on this through positive reinforcement and keeping encounters at a workable distance as he improves.
Ready's ideal home would be one with minimal stairs and away from populated areas, preferably with a fenced backyard with no other pets. It is also important to note that Ready has a high prey drive for small animals (i.e. squirrels, skunks, raccoons, etc). Additionally, Ready will require a family who will encourage him to stay active to keep his mobility up.
This strong guy is wise beyond his years. His gaze has a softness and his eyes a depth unlike that of most pups. He has so much knowledge to share, and I promise he will do it all with the biggest of hearts while providing loads of slobbery kisses. As a sensitive and pure soul, Ready is prepared to give all of himself to his new owner(s) as their new best friend if given a chance.
Ready dreams of treats, squirrels, belly scratches, and sloppy kisses, but most of all, he dreams of the day he gets to meet you.
Think you're the one? Begin our adoption process here! adopt-a-pet/adoption-process
| Animal ID: | 39080046 |
| --- | --- |
| Species: | Dog |
| Breed: | Bulldog, American,Mix |
| Age: | 11 Years |
| Sex: | Male |
| Size: | L |
| Colour: | Brindle / White |
| Spayed/Neutered: | Yes |
| Declawed: | No |
| Site: | Toronto Humane Society |
| Location: | Fosters |
| Intake Date: | 11/22/2020 |
| On Hold: | Yes |